Biography
Singer, songwriter and composer Désiré Sankara invites you to discover the traditional rhythms of Burkina Faso, arranged for acoustic guitar in all their variety and richness: the Warba (dance music for baptismal and other ceremonies); the Wennega (dance rhythms of joy and happiness); the Liwaga (mossi folklore from Yatenga province) and the Kiègba (dance music specially made for women and their shaking posteriors!).
Désiré Sankara grew up in Ouagadougou, the capital of Burkina Faso. From his earliest years, he was surrounded by the stories, legends and proverbs of the mossi tradition, all brought to the household from the communities in the surrounding villages.
His music is centred on themes related to traditional folklore and everyday life in the villages, encouraging respect for ancient customs and friendship between the various ethnic groups and tribes. His songwriting is in Mooré, his mother tongue.
Turning a modern ear towards the tradition and mysterious fantasy of the old world, he gives an original festive and sometimes nostalgic colour to the traditional rhythms of those times,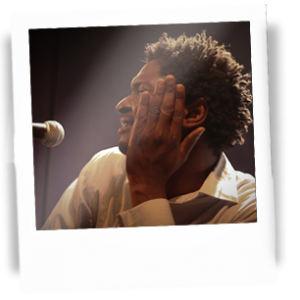 which he occasionally blends in more western sounds, while preserving their original African feel.
Désiré Sankara is presently touring in quartet formation, together with drummer Tommy Milharo, base guitarist Fabien Janicic and the solo guitarist Michael Avron.